Eurozone Annual Inflation slows sharply in May to 6.1%
EU

|

June 1, 2023, Thursday // 14:53

|

views
The common inflation in the Eurozone on an annual basis slowed sharply in May to 6.1% from 7% in April, preliminary data from Europe's official statistics agency Eurostat showed.
This is the lowest inflation in the single currency bloc since February 2022 (just as Russia's military invasion of Ukraine began), while average market expectations were for inflation to slow more modestly to 6.3%.
Despite the sharp slowdown, Eurozone inflation still remains well above the ECB's medium-term target of 2 percent.
Graph of inflation in the Eurozone on an annual basis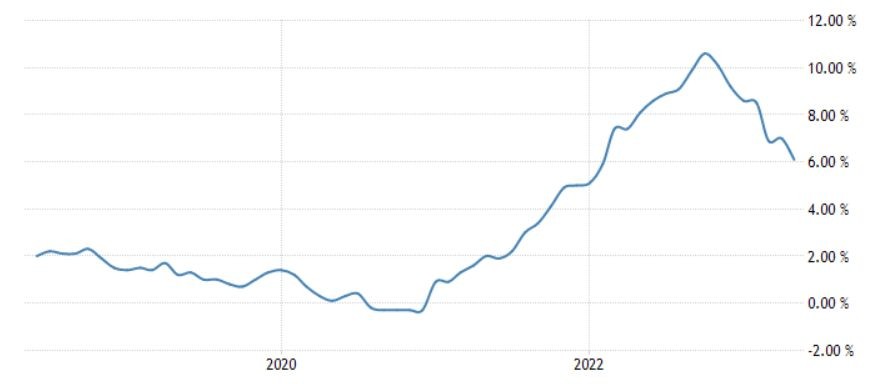 On a monthly basis, the consumer price index (CPI) remained in May at the level of April, when it rose by 0.6 percent.
The decline in Eurozone inflation was mainly due to energy prices falling by 1.7% compared to May 2022, following a 2.4% increase in April. In addition, there was a slowdown in price pressures for food, alcohol and tobacco products (up 12.5%, but after growth of 13.5% a month earlier), non-energy industrial goods prices (up 5.8% at 6.2% in April) and in the services sector (up 5% after growth of 5.2% in the previous month).
Eurostat also reported a sharper slowdown in core inflation (excluding food and energy prices) in May to 5.3 percent from 5.6 percent in April and expectations for 5.5 percent.
Today's data can be seen with some relief from the ECB. However, it is necessary for this trend of slowing inflation to be maintained in the coming months, so that central bankers can be convinced that there is a lasting improvement in the inflationary picture.
Follow Novinite.com on Twitter and Facebook
Write to us at editors@novinite.com
Информирайте се на Български - Novinite.bg
We need your support so Novinite.com can keep delivering news and information about Bulgaria! Thank you!
Back