Bulgaria: Insecure Pro-Russian MPs Spat, Yelled and tried to Fight in Parliament
Politics

|

June 1, 2023, Thursday // 10:55

|

views
@BGNES
There were physical clashes in the plenary hall after, during a declaration from the parliamentary rostrum, Yavor Bozhankov from "We Continue the Change-Democratic Bulgaria" (WCC-DB) called Kostadin Kostadinov and Tsoncho Ganev from pro-Russian party "Vazrazhdane": "soft wrists" ("meki kitki" which in Bulgarian insinuates homosexual orientation).
The tension then escalated, Tsoncho Ganev spat at Bozhankov, and everyone jumped to their feet. Later, the clash continued on the sidelines, where "Vazrazhdane" gave a short briefing.
The words of Bozhankov himself in the hall were provoked by Iskra Mihailova from "Vazrazhdane", who made a statement from the parliamentary rostrum and declared that WCC-DB are national traitors.
While Bozhankov was walking to the podium to answer, Tsoncho Ganev from "Vazrazhdane" was heard saying to him: "Just one word about the declaration, you will see what I will do to your tablet".
"They were talking about soft wrists. The two of them: Tsoncho and Mr. Kostadinov doubt us the most in this regard," said Bozhankov, and the tension exploded.
The Speaker of the National Assembly Rosen Zhelyazkov gave a 10-minute break, deputies came to the podium and a stampede began. The line was repeatedly heard: "Let's not push each other".
After the situation calmed down, MPs from "There Is Such a People" commented to Bulgarian media "OFFNews" that Tsoncho Ganev spat on a MP during the clashes, and someone's glasses fell to the ground. Numerous MPs from several parliamentary groups took part in the clashes, but the most active were from the "Vazrazhdane" and WCC-DB groups.
After the incident, Manol Peykov from WCC-DB stated that Zlatan Zlatanov from "Vazrazhdane" was the first to "jump". According to him, there were insults and personal threats. He called "Vazrazhdane" behavior "childish on Children's Day." Manol Peykov then commented that Bozhankov may have gone too far, but that this was his choice and that such behavior is not acceptable.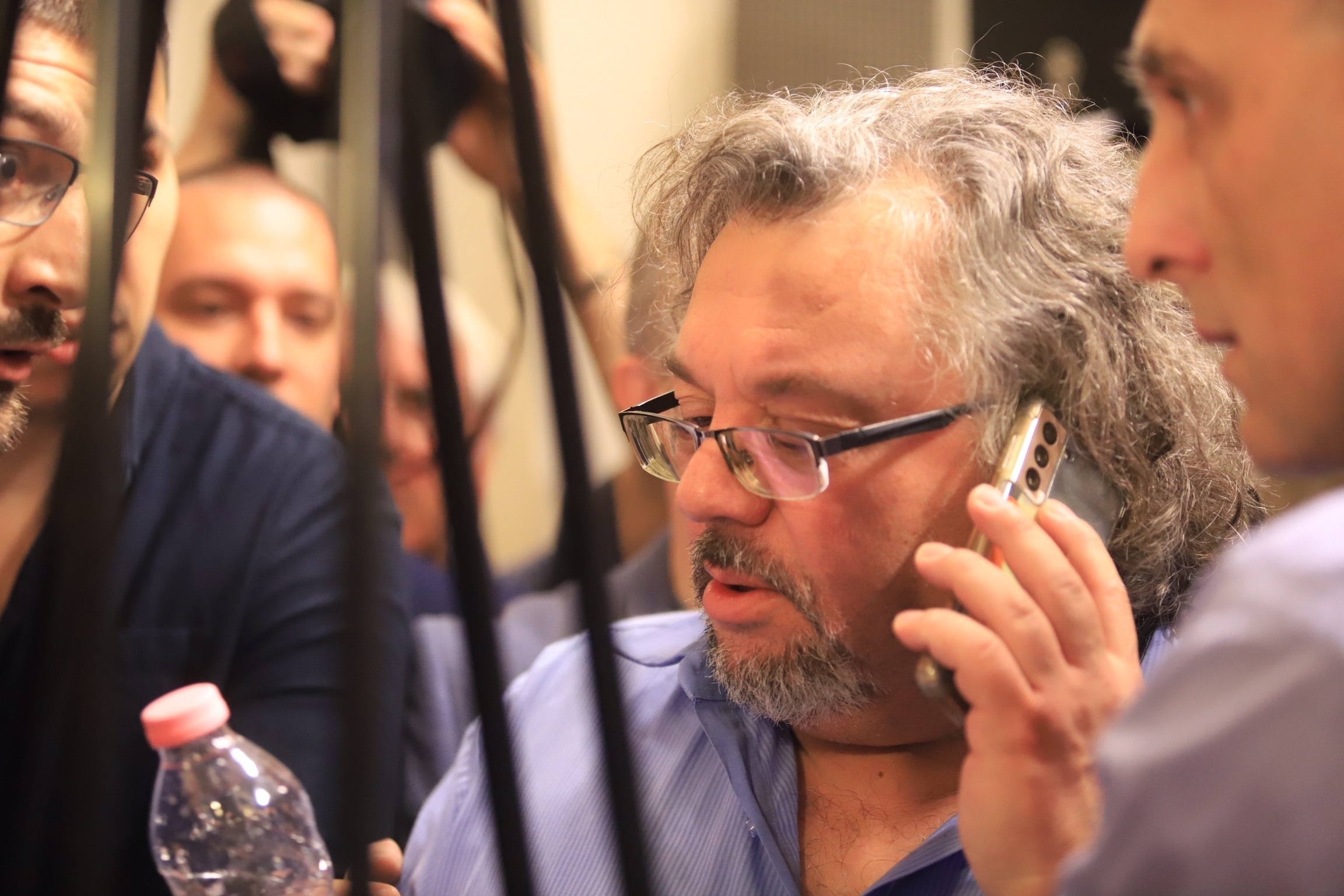 "Courage is to resist such physical attacks, the attack was not mine... The first to jump was Zlati. I don't know his name, I only know him by his first name," said Manol Peykov. He showed that he had been scratched on the cheek.
When asked by journalists, Tsoncho Ganev did not confirm whether he really spat on a deputy in the hall. "Vazrazhdane" only commented that they would give a briefing on the case later.
When he heard that there was a clash in the plenary hall, DPS leader Mustafa Karadayi quickly left his office. "How can that happen without me?" he joked.
Second clash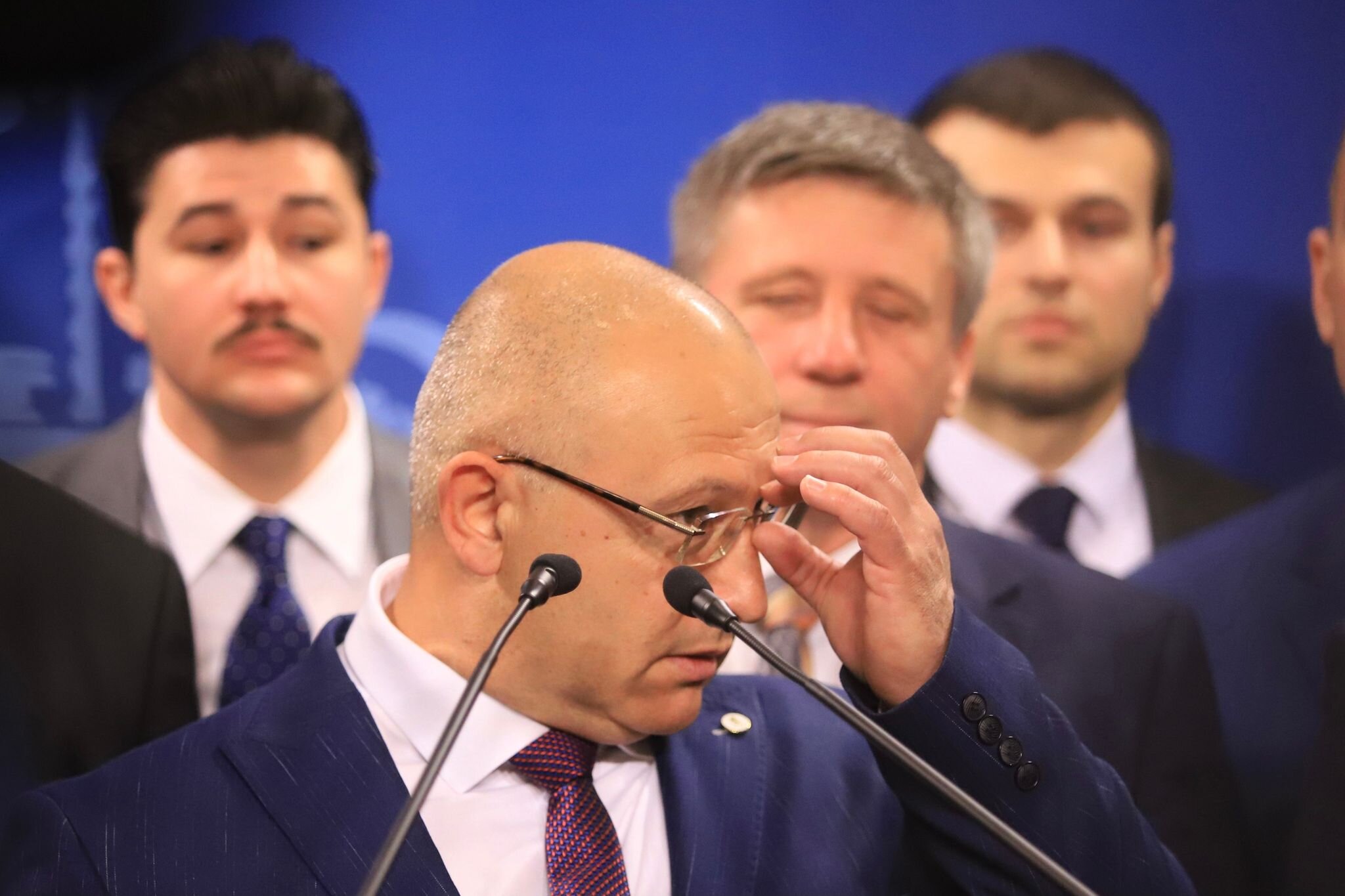 A deputy from "Vazrazhdane" keeps his glasses after the clash. Photo: BGNES
During the briefing of "Vazrazhdane", in which they accused WCC-DB of provocation, there was also a clash - between deputies from "Vazrazhdane" and Manol Peykov. It came to pushing and high-pitched remarks, and the MP from "Vazrazhdane" ended up with broken glasses.
Kostadinov threatened that from now on, when Bozhankov or Manol Peykov go to the stand, "Vazrazhdane" will take them down from there.
/OFFNews
Follow Novinite.com on Twitter and Facebook
Write to us at editors@novinite.com
Информирайте се на Български - Novinite.bg
We need your support so Novinite.com can keep delivering news and information about Bulgaria! Thank you!
Back