Oil Prices fall against the background of a Deal being reached on the US Debt Ceiling
World

|

May 30, 2023, Tuesday // 09:43

|

views
@Pixabay
Oil prices fell nearly 1 percent in early European trade, erasing yesterday's gains on concerns about the viability of the bipartisan US debt ceiling deal and mixed messages from top oil producers ahead of the OPEC+ meeting later in the week.
By 09:00 a.m. Bulgarian time, Brent oil futures and US light crude WTI futures were down about 1% at .30 and .30 a barrel, respectively, erasing Monday's gains in reaction to the weekend pact between Democrats and Republicans in the US Congress on the federal debt ceiling.
Brent Oil Chart (in dollars per barrel)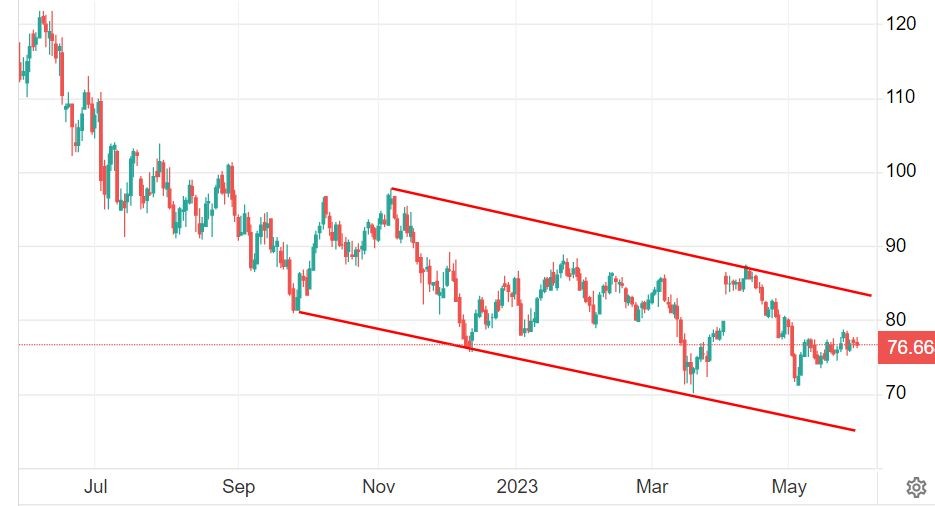 But some far-right Republican lawmakers said last night they may oppose a debt ceiling deal for the world's biggest oil consumer (the United States), while Democratic President Joe Biden and Republican House Speaker Kevin McCarthy remained upbeat that the deal will be voted on in Congress.
Over the weekend, Biden and McCarthy struck a deal on the debt, and it must win the approval of the US Congress before June 5, the day the Treasury Department indicated that the country will no longer be able to meet its financial obligations, which could provoke tremors in the world financial markets.
Conflicting statements from Republicans and lawmakers are causing concern among investors, analysts said.
It should be noted that the deadline for approval of the debt ceiling agreement (June 5th) almost coincides with the June 4th meeting of the Organization of the Petroleum Exporting Countries (OPEC) and its allies, including Russia, known as the OPEC+ format and the associated uncertainty as to whether or not they will commit to further production increases amid the recent decline in oil prices.
Last week, the Minister of Energy of Saudi Arabia, Abdulaziz bin Salman, warned investors who bet on the so-called "short sells", expecting oil prices to continue to fall, to "watch out". This is interpreted as a possible signal that "OPEC +" may reduce production again.
At the same time, however, comments from senior Russian oil officials and sources, including Deputy Prime Minister Alexander Novak, indicated that the world's third-largest oil producer was inclined to leave output unchanged.
In April, Saudi Arabia and other OPEC+ members announced further oil output cuts of about 1.2 million barrels per day, bringing the total volume of cuts by the oil cartel to 3.66 million barrels per day, according to Reuters calculations.
"Voluntary production cuts in April caught the market off guard. This time, however, investors are extremely cautious before the final decision is announced," analysts at Haitong Futures said.
Oil market participants are also awaiting data later this week on business activity in China's industrial and service sectors, which are being watched closely for signs of a recovery in fuel demand in the world's biggest oil importer in the world.
Follow Novinite.com on Twitter and Facebook
Write to us at editors@novinite.com
Информирайте се на Български - Novinite.bg
We need your support so Novinite.com can keep delivering news and information about Bulgaria! Thank you!
Back