Bulgaria: Archeologists from Varna discovered an Ancient Object with an analogue only in the Louvre
Archaeology

|

April 25, 2023, Tuesday // 08:49

|

views
@BNR
Archaeologists from Varna discovered an ancient object that has an analogue only in the collection of the Louvre. The find was found during the excavations of part of the sanctuary of Ancient Odessos, Elina Mircheva, curator and archaeologist at the Archaeological Museum in Varna, told Radio Varna:
"The dish that pleased us the most was a red-figured askos. We managed to find most of the pieces and put it together like a puzzle. At the moment, its degree of preservation allows it to be restored and exhibited. This monument is indeed rare. It is from the beginning of the 5th century BC and perhaps has no analogue, at least in our collection, but there is no analogue of this exact type of vessel in Bulgaria either. Such was found in Apollonia Pontica, but at the beginning of the 20th century and is now part of the collection of the Louvre."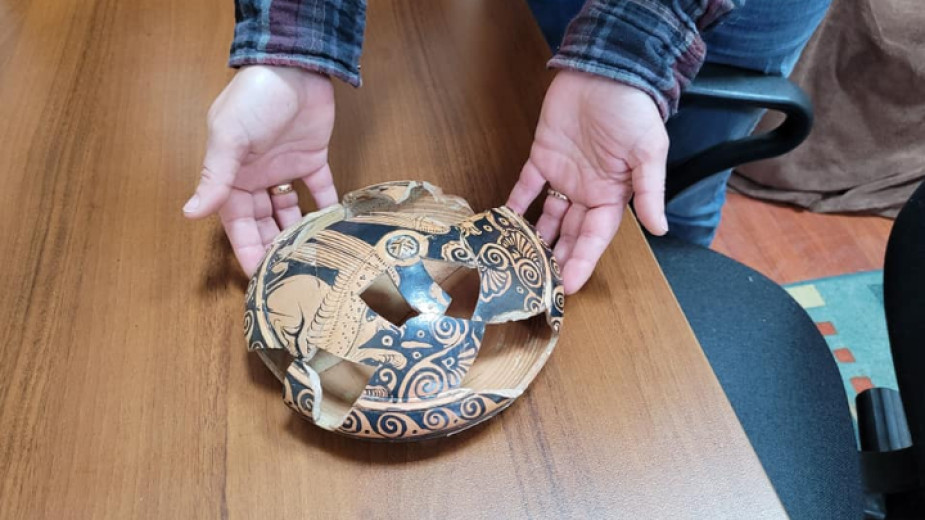 An askos is a vessel for liquids made of clay. It looks like a small pot with a handle, only it is round and has a spout, which unfortunately has not been preserved, explained Elina Mircheva.
The unique thing, however, is not the object itself, but the ritual pit in which it was discovered, emphasized Elina Mircheva. She pointed out that for the first time the Varna archaeologists who were studying the sanctuary of Odessos came across structures that were not affected by time. This is happening at a site located at the intersection of "Primorski" Blvd. and "Chernorizets Hrabar" St., where a private investor is building, and during the excavation for the construction last year, unaffected closed complexes were discovered.
In general, when exploring ritual pits, archaeologists find the largest quantities of amphora fragments. The different types of amphora provide a lot of information about the trade relations and preferences of the population of the ancient city. Most of the seals they found were from the island of Thassos, but there are also from Heraclea and other places, said Elina Mircheva.
/Bulgarian National Radio
Follow Novinite.com on Twitter and Facebook
Write to us at editors@novinite.com
Информирайте се на Български - Novinite.bg
We need your support so Novinite.com can keep delivering news and information about Bulgaria! Thank you!
Back