Oil continues to Fall in Price
Energy

|

April 20, 2023, Thursday // 15:41

|

views
@Pixabay
Oil prices continued to fall during trading on Thursday, hitting three-week lows on concerns that rising interest rates policies by leading central banks could limit global economic growth and fuel consumption going forward.
At the same time, the dollar has appreciated in the foreign exchange market, with its strengthening making oil more expensive for buyers in other currencies.
The drop in oil prices is mostly due to renewed concerns that interest rate hikes by the Fed and the ECB will cool economic growth and reduce consumption of the important energy commodity. The US Federal Reserve is gearing up for another rate hike of 25 basis points in May, while the ECB is expected to raise rates three more times in the next few months (likely by 25 basis points at each meeting).
As of 2:00 p.m. Bulgarian time, Brent oil futures were down 1.4% at $82 a barrel, and those of US light crude oil WTI were down 1.55% at $78 a barrel, deepening a 2% drop from Wednesday.
These are the lowest prices of the main oil futures in three weeks (since March 31) - just before the black gold rose sharply in early April as a result of the surprise decision of "OPEC +" to further reduce its oil production by over 1 million barrels per day.
Brent Oil Chart (in dollars per barrel)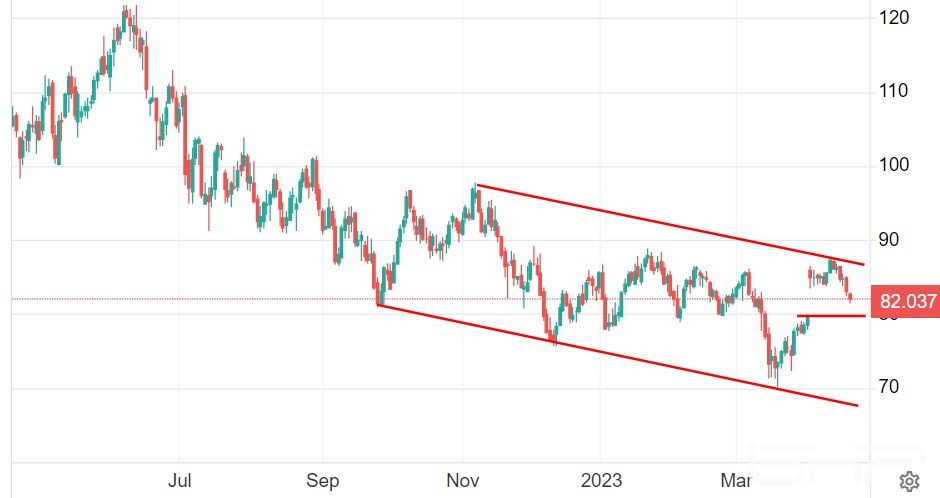 The cheapening is a fact, although oil stocks in the United States fell by 4.58 million barrels in the last week, according to data from the US Energy Information Administration (EIA). At the same time, however, there was a surprise jump in gasoline inventories due to disappointing fuel demand.
On the supply side, oil loadings from Russia's western ports in April were likely to rise to their highest level since 2019, despite Moscow's pledge to cut output, trade and shipping sources said, cited by Reuters.
Gasoline markets in Asia, on the other hand, are showing signs of weakness in view of declining profits from fuel production. Demand for diesel fuel is also lagging, with some refiners considering cutting back on oil processing as profit margins shrink. This is also weighing on crude oil prices.
Follow Novinite.com on Twitter and Facebook
Write to us at editors@novinite.com
Информирайте се на Български - Novinite.bg
We need your support so Novinite.com can keep delivering news and information about Bulgaria! Thank you!
Back