Bulgaria: A Woman Kidnapped and Castrated a Domestic Cat in Burgas
Crime

|

April 13, 2023, Thursday // 13:55

|

views
@Nova
A woman posing as a municipal employee kidnapped a cat in the "Vetren" neighborhood of Burgas and castrated it, Nova TV reported.
On Saturday, the woman took Dobromira Stoilova's pet cat under the pretext "that she is taking the animal for castration and will return it the next day". On footage from the family's security cameras, the woman can be seen and heard luring the kitten and, despite the intervention of neighbors, putting it in a cage and putting it in the trunk of a car.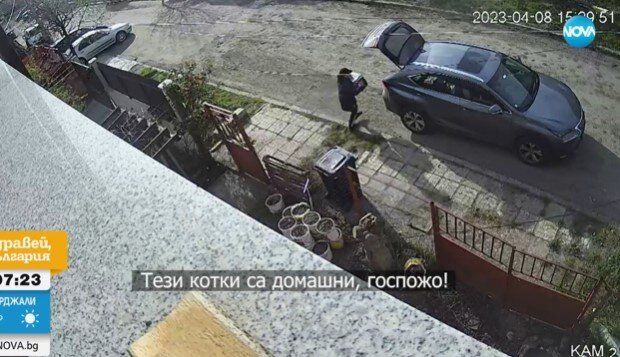 This is not the first such case in the neighborhood.
Stoilova said that surprisingly her pet was returned after she shared footage of it being taken on social media.
The cat was taken on Saturday and returned on Tuesday at noon - hours after the cat's owner posted a video of the animal being taken on social media.
"The animal is quite stressed. It was castrated very recently," she said. Stoilova explained that she would file a report with the police, where she would hand over the recordings from the security cameras.
The woman who took the cat contacted the owner and explained that she "did her a favor because the owners are irresponsible".
Petya Dimova - head of the "Ecology" department in the municipality of Burgas, said that employees of the municipal shelter perform a similar activity, but their cars are branded and the employees carry personal cards.
Follow Novinite.com on Twitter and Facebook
Write to us at editors@novinite.com
Информирайте се на Български - Novinite.bg
/Nova TV
We need your support so Novinite.com can keep delivering news and information about Bulgaria! Thank you!
Back