The Minister of Energy welcomed in Turkey a Tanker with American Gas for Bulgaria
Energy

|

April 12, 2023, Wednesday // 15:58

|

views
@BTA
"At the end of the month in Sofia (April 25-26), a large-scale agreement is expected to be signed between several countries, including Azerbaijan, Turkey, Bulgaria, Romania, Hungary, Slovakia, on the expansion of the gas infrastructure. This will make it possible to supply gas from Azerbaijan through Bulgaria to Central Europe." This was announced by the Acting Minister of Energy Rosen Hristov during his visit to the Turkish terminal Marmara Ereglisi LNG, where the first tanker with liquefied natural gas was received, according to the agreement between Bulgargaz Ltd. and the Turkish company Botas, BTA reported.
According to Minister Hristov, the agreement to be signed in Sofia will enable our country to supply liquefied gas from American and European sources to Central Europe again.
"This agreement is of European importance. Of course, in parallel with this, we continue our cooperation with the Turkish side, according to the agreement we have," he said.
The agreement between "Botas" and "Bulgargaz" was signed in Sofia on January 3 this year and has a term of 13 years. With it, the Bulgarian public supplier gained access to five terminals for liquefied natural gas and the gas transmission network of Turkey. It is planned that 1.5 billion cubic meters of gas will be transferred per year. The tanker that arrived in Turkey today has a cargo of 50 million cubic meters.
"This agreement is extremely important for Bulgaria. In practice, today begins the practical implementation of the agreement that was reached between the presidents of Bulgaria and Turkey in December last year. Literally a few weeks later (on January 3) we signed the agreement and today we welcome the first tanker that we unload. In order to achieve energy security and supply diversification, it is very important to have both different sources of supply and different infrastructure, that is, different routes for the supply of this gas. With this agreement with Botas, in practice we are adding another gas delivery route that we are negotiating. The vessel that we are welcoming today is contracted by Bulgargaz with the American company Cheniere. What is agreed with the Turkish side is to use the unloading infrastructure , regasification, storage and delivery of the quantities to Bulgaria", added the Minister of Energy.
He pointed out that this debunks the political attack from last year that this contract "was for the hidden delivery of Russian gas".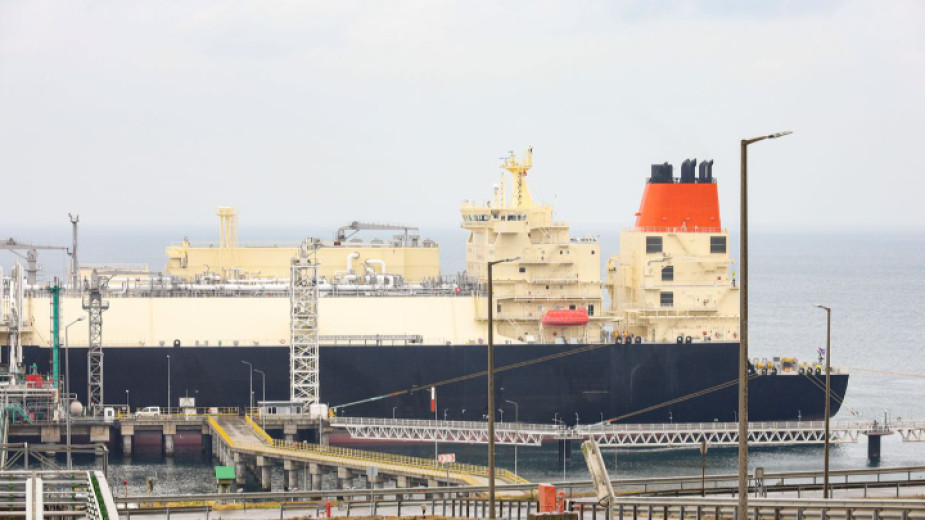 "As you can see, the gas comes from the USA. We expect to be able to supply over ten tankers per year through this agreement. It is very important to clarify that under this agreement we do not have an agreement to use a single terminal, but all Turkish terminals. Our task is by buying the tanker, to deliver it in Turkish waters. Botas then takes over and unloads it where it is most convenient and efficient. This gives us extreme flexibility of delivery. It is also beneficial for the Turkish colleagues as in this way they optimize their infrastructure. Many countries tried to reach such an agreement with Turkey and none except Bulgaria succeeded. We managed to find a win-win formula so that the Turkish side also benefits from such an agreement. I give an example with the terminal in Greece, where we have property. If there are technical problems there, our supplies are blocked. The many terminals that Turkey has at its disposal practically eliminate this problem," Rosen Hristov also said.
Before visiting the terminal, the Bulgarian Minister of Energy met with the management of the Turkish company Botas and Marmara Ereglisi LNG. Along with Rosen Hristov, Denitsa Zlateva, the executive director of Bulgargaz Ltd., arrived in Turkey.
She said that for "Bulgargaz" today is an extremely important day, because it marks the beginning of the strategic partnership with "Botas". According to her, our country continues to use the slots at the liquefied gas terminal near Athens, Greece - Revithoussa.
"Our task is to offer gas to Bulgarian consumers at competitive prices, and if we look at the movement of the price indices since January, we will see that we announced the price for May and June. For this period, we have a serious reduction of 60 percent the price since the beginning of the year... We expect this downward trend in prices to continue," said Zlateva.
Minister Hristov noted that it is "very important to have different ways of delivery, because this is how we manage to negotiate the best prices".
"The access to infrastructure that we have gives us the opportunity at the most advantageous moment to buy gas and deliver it to our country. The expansion of the gas storage facility in Chiren is also key," Hristov said.
Follow Novinite.com on Twitter and Facebook
Write to us at editors@novinite.com
Информирайте се на Български - Novinite.bg
/Bulgarian National Radio
We need your support so Novinite.com can keep delivering news and information about Bulgaria! Thank you!
Back