Day 406 of the Invasion of Ukraine: UN wants Access to Deported Ukrainian Children, a Bulgarian is Involved
Ukraine

|

April 5, 2023, Wednesday // 11:45

|

views
@novinite.com
Day 406 of the invasion of Ukraine. Summary of key events in the last 24 hours:
Zelensky received Poland's highest state award
Ukraine is preparing 40,000 military personnel for a counteroffensive
Von der Leyen and Macron discuss the conflict in Ukraine in Beijing
Volodymyr Zelensky arrived in Poland
Polish farmers threaten to "ruin" Zelensky's visit because of the grain dispute
German economy minister wants sanctions for countries using Russian nuclear fuel
The UN wants access to deported Ukrainian children, a Bulgarian woman will monitor the situation in Russia

Zelensky received Poland's highest state award
Ukrainian President Volodymyr Zelensky is on an official visit to Poland. He received the country's highest state award - the Order of the White Eagle.
Zelensky first met with Polish President Andrzej Duda, and then talks began with Prime Minister Mateusz Morawiecki. In addition to military, Kyiv will also seek economic support.
Zelensky will visit Ukrainians who fled the war in Poland. According to UN data, one million and 600 thousand Ukrainian citizens have found refuge in the country. Poland is also becoming an important logistical hub for the military aid that Ukraine receives from the West. Warsaw managed to convince Berlin to give Kyiv battle tanks "Leopard", further analysts remind. Zelensky is accompanied by his wife Olena.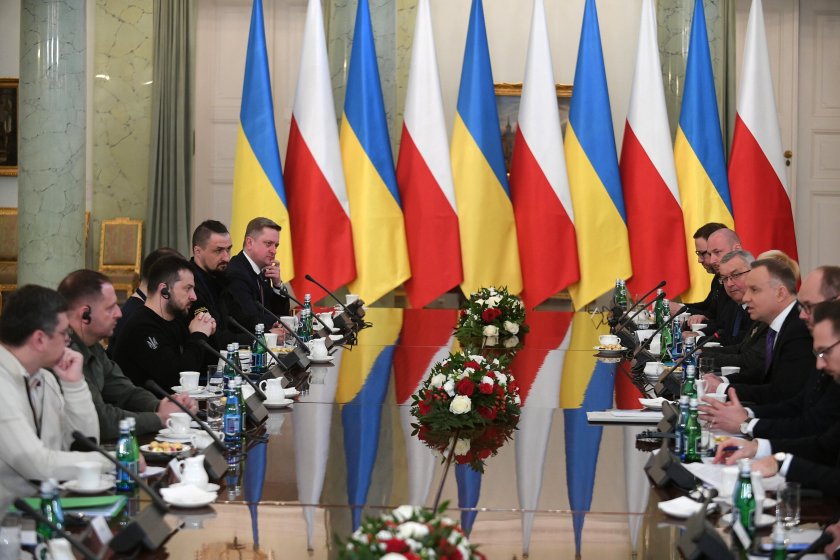 Ukraine is preparing 40,000 military personnel for a counteroffensive
Ukraine is preparing 40,000 military personnel in eight brigades for a counteroffensive against Russian forces, Reuters reported. "Steel Border" is one of these eight new assault brigades that Ukraine wants to use during a counter-offensive against the Russian occupiers in the coming weeks or months, Reuters reported.
The formation of the military units was aided by an aggressive social media and billboard campaign to attract highly motivated volunteers to the army.
Ukrainian troops have been under Russian attacks for months in cities such as Bakhmut in the east of the country, where thousands of soldiers are believed to have died, Reuters said, adding that Kyiv does not report its military losses.
The new brigades, being prepared by the interior ministry, will fight alongside regular army units, bolstered by new Western battle tanks and thousands of new soldiers trained by allies outside Ukraine.
The brigades have memorable names: "Hurricane", "Spartan", "Red Kalina", "Border", "Fury", "Azov" and "Kara Dag" - a mountain in Crimea.
Interior Minister Igor Klimenko told Reuters he believed Ukraine still had significant mobilization potential, adding that the recruits included women, people without military experience and former police and military personnel.
Kyiv launched its campaign to recruit military personnel for assault brigades at the beginning of February, Reuters recalls.
Klimenko said training would take up to four months for inexperienced civilians, but former police or soldiers could be trained in two months. The minister also pointed out that 2.5% of the personnel of the brigades consists of women. "Our women are patriotic enough, strong and hate the enemy no less than men, they want to serve," he pointed out.
Von der Leyen and Macron discuss the conflict in Ukraine in Beijing
French President Emmanuel Macron arrives on an official three-day visit to China together with European Commission President Ursula von der Leyen. The focus of their talks in Beijing will be Russia's military aggression against Ukraine.
President Macron is expected to call on the Chinese leadership to "refrain from military support for Moscow". Immediately before the visit, he spoke with US President Joe Biden, and both expect Beijing to assist in quickly ending the war in Ukraine and establishing lasting peace.
Tomorrow, Emmanuel Macron will meet personally with Chinese President Xi Jinping, and then Ursula von der Leyen will join the talks for a more convincing presentation of the "single European voice". Von der Leyen pointed out that China's position on Russian actions in Ukraine will be decisive for further relations between Brussels and Beijing.
Among the main goals of the visit of the French president to China is the activation of economic relations after the Covid-19 pandemic. He will be accompanied by French business representatives from areas such as winemaking, aviation and cosmetics. France is the largest European investor in China by number of companies, but its relative market share in 2022 is lower than in the previous year.
Volodymyr Zelensky arrived in Poland
Ukrainian President Volodymyr Zelensky arrived in neighboring Poland this morning, world agencies reported, citing Polish presidential adviser Marcin Przydacz.
He is scheduled to speak with his Polish counterpart Andrzej Duda and Prime Minister Mateusz Morawiecki.
Later, at the Royal Castle in Warsaw, Zelensky and Duda will meet with Ukrainians who fled to Poland to escape the conflict in their homeland. The two presidents are also expected to make statements.
In February this year, Volodymyr Zelensky visited London, Paris and Brussels, and before that - in December last year - he traveled to the USA and Poland.
Polish farmers threaten to "ruin" Zelensky's visit because of the grain dispute
Polish farmers are threatening to derail Volodymyr Zelenskiy's visit to Warsaw because of claims that Ukrainian grain is flooding their market, the Guardian reported.
Ukraine's president is due to visit Poland's capital on Wednesday to express his gratitude for the country's solidarity in the war with Russia, but Polish grain producers are warning they could take to the streets to "ruin" the event.
"Warsaw needs to think things through," said Marcin Sobczuk, head of the Farmers' Association in Zamosc, in an interview with the Polish news website Interia. He indicated that the association was ready to "spoil" the visit and added: "There are many ideas, but it is too early to talk about it."
As part of an EU initiative, all tariffs and quotas on Ukrainian grain exports in the 27 member states were removed to facilitate transit of the product around the world, including in Africa, where the Russian blockade on Ukrainian exports has been particularly painful.
However, the grain failed to make it out of some Eastern European countries, including Poland, Hungary and Romania, undercutting prices in those countries and fueling discontent in farming communities.
Polish Prime Minister Mateusz Morawiecki said he would ask the European Commission and member states to reimpose barriers to Ukrainian grain exports, but Polish farmers say nothing has been done.
"We thought the minister took us seriously, but it turned out otherwise," Sobczuk said.
Poland has been one of Ukraine's biggest backers since Vladimir Putin sent his military to the country in February 2022 and urged the EU to go further and faster in its economic sanctions regime.
Morawiecki was one of the first European leaders to visit Kyiv. However, domestic politics have begun to intervene, with the government recently reducing its financial support for Ukrainian refugees and now signaling that it opposes the war-torn country's stockpiling of grain in Poland. Local farmers have become increasingly vocal in their complaints about Ukraine's grain imports rising to 2.45 million tons in 2022 from just under 100 million. tons for a normal year.
EU member states recently approved €56.3 million to support Bulgarian, Polish and Romanian farmers, and the Polish Ministry of Agriculture announced compensation. However, the money has been described as a "drop in the ocean".
Earlier this month, Poland's Agriculture Minister Henryk Kowalczyk was pelted with eggs during a discussion with EU Agriculture Commissioner Janusz Wojciechowski.
German economy minister wants sanctions for countries using Russian nuclear fuel
Countries that receive uranium (nuclear fuel) from Russia for their nuclear power plants should face sanctions, German Economy Minister Robert Habeck said on his return from a two-day visit to Kyiv, BTA reported, citing DPA.
During Habeck's talks in Ukraine, the main issue, he said, was "the supply of uranium for nuclear fuel rods to Europe from Russia."
The German economy minister was asked by Ukrainian officials why the purchase of Russian uranium has not yet been banned by the West, despite multiple economic sanctions against Moscow over the war in Ukraine.
"I don't think there is a satisfactory answer to that question at the moment," he told reporters. At some point, however, that has to happen, "even if it means a new 'setup" for countries that are still fueling their nuclear power plants with Russian uranium. These follow-up actions "seem reasonable to me," Habeck added.
Habeck also called for a more consistent application of existing sanctions because they are currently being circumvented through third countries.
"This is not acceptable in any way, it should be clear to everyone that such actions are not a game of hide and seek or a minor violation, but the sanctions that should ultimately help to end the war," said the Minister of Economy of Germany in the government of Chancellor Olaf Scholz.
"These and as many other measures as possible" should be adopted in an additional package of EU sanctions, he demanded.
The UN wants access to deported Ukrainian children, a Bulgarian woman will monitor the situation in Russia
The UN Human Rights Council has asked Russia to provide access and information about Ukrainian children and other civilians forcibly relocated to territories under its control, AFP reported.
Among a long series of resolutions adopted on the final day of its main annual session, the Council also agreed to appoint Bulgarian human rights expert Mariana Katzarova to monitor the situation in Russia.
The move came after the Council decided last September that a so-called special rapporteur on Russia was needed amid concerns about Moscow's intensifying domestic crackdown as the war in Ukraine continues.
Mariana Katzarova has worked for Amnesty International in London, for the Bar Committee on Human Rights in New York, for the Organization for Security and Cooperation in Europe in Warsaw, for the European Bank for Reconstruction and Development in London.
She was an advisor to the UN High Commissioner for Human Rights in Geneva on human trafficking and slavery. During the war in eastern Ukraine, she spent two years in Donetsk, where she led the UN human rights monitoring mission.
In 2006, she founded the international human rights organization RAW in WAR (Reach All Women in War) in London - "Let's reach every woman in war".
The deportation of children
A resolution was adopted calling on Moscow to "end the illegal forcible transfer and deportation of civilians and other protected persons within Ukraine or the Russian Federation".
The text was adopted with 28 votes in favor and 17 abstentions. Two countries voted "against" - China and Eritrea. The resolution specifically highlights the transfer of "children, including those in institutions, unaccompanied and separated children".
Kyiv claims that more than 16,000 Ukrainian children were deported to Russia as of February this year. Earlier this month, the International Criminal Court issued an arrest warrant charging Russian President Vladimir Putin with war crimes over the illegal deportation of hundreds of children from Ukraine. It says there are reasonable grounds to believe that Putin bears personal criminal responsibility.
"The scale and brutality of Russian atrocities in Ukraine is simply beyond human comprehension," Ukrainian representative Evgenia Filipenko told the Council. "The most horrific of them is the forcible transfer (...) of children to Russia for their re-education and adoption," she added.
Chinese representative Li Shaomei, however, insisted that it would be better for the council to support "dialogue between Russia and Ukraine."
Tuesday's resolution, which extended for another year a high-level investigation into violations committed in the context of the war in Ukraine, called on Russia to provide access to all those transferred.
It urges Moscow to grant representatives and collaborators of international humanitarian and human rights organizations "unimpeded, immediate, permanent and safe access, to provide reliable and complete information on the number and whereabouts of these civilians, as well as to ensure their dignified treatment and safe return".
Moscow is also called on to provide "unimpeded, immediate and sustained" access to all prisoners of war and other "illegally detained" persons.
---
Novinite is still the only Bulgarian media that publishes a summary of events and highlights related to the conflict, every single day. Our coverage began on day one - 24.02.2022 and will not stop until the war has concluded. Despite the pressure, our independent media will continue to provide its readers with accurate and up-to-date information. Thank you for your support! #stayinformed
Follow Novinite.com on Twitter and Facebook
Write to us at editors@novinite.com
Информирайте се на Български - Novinite.bg
We need your support so Novinite.com can keep delivering news and information about Bulgaria! Thank you!
Back