Photos of Jackson Pollock's Painting that was Found in Bulgaria
Society

|

March 22, 2023, Wednesday // 19:09

|

views
@Bulgarian National Radio
The Bulgarian National Radio provided exclusive photos of the painting of Jackson Pollock discovered by the Main Directorate "Fighting Organized Crime".
Photos courtesy of BNR: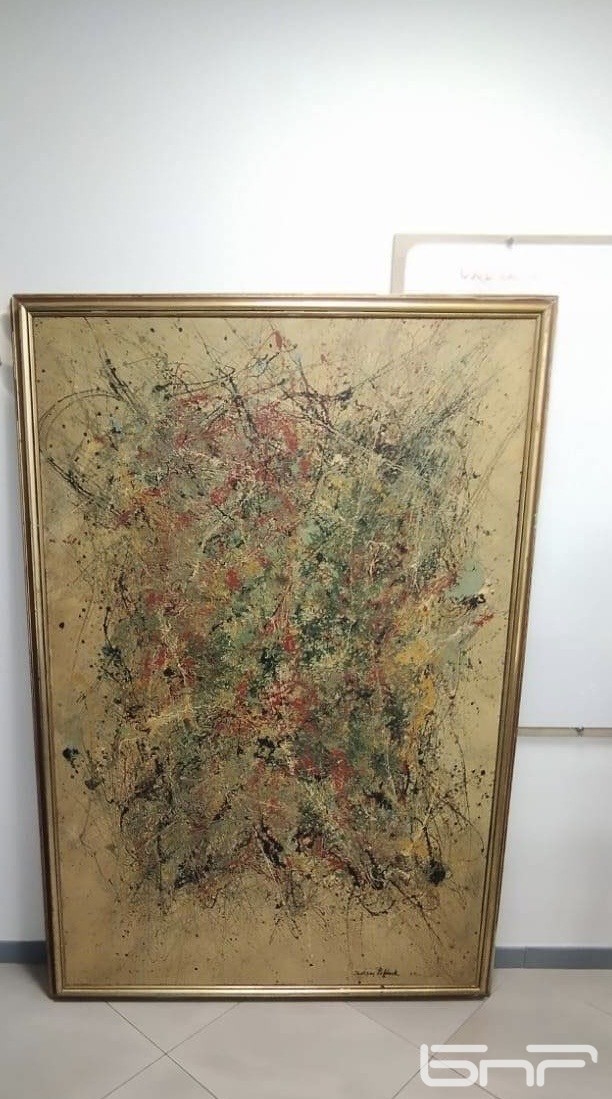 Today, the prosecutor's office revealed details of the case with the painting by the world-famous artist Jackson Pollock, discovered in Bulgaria. It was confiscated yesterday in an operation against traffickers of cultural values. On the back of the canvas is a dedication, which is believed to have been written personally by the artist, to the Hollywood star of the first half of the last century Lauren Bacall on the occasion of her birthday in 1949.
If the authenticity of the canvas is confirmed, it would mean that the painting was originally a personal gift from Pollock to Bacall. According to the two examinations carried out so far, the technique and the paints used match those in the work of the American artist. The examinations will continue, said the spokesperson of the Sofia City Prosecutor's Office, Desislava Petrova.
The prosecution also specified that the authenticity of the inscriptions on the canvas is also being checked.
In addition to the dedication of Lauren Bacall, according to BNT, there is a stamp on the canvas indicating that the painting belongs to the collection of the Romanian communist dictator Nicolae Ceausescu.
Follow Novinite.com on Twitter and Facebook
Write to us at editors@novinite.com
Информирайте се на Български - Novinite.bg
/Bulgarian National Radio
We need your support so Novinite.com can keep delivering news and information about Bulgaria! Thank you!
Back