Slowdown of Annual Inflation in Bulgaria to 16% in February
Finance

|

March 15, 2023, Wednesday // 12:35

|

views
@novinite.com
In February, annual inflation in Bulgaria slowed down to a 9-month low of 16.0% compared to 16.7% in January, according to the data of the National Statistical Institute. This is the lowest annual inflation rate since May 2022.
On a monthly basis, however, there was an increase in consumer prices by 0.8% compared to the first month of 2023, when inflation rose by 1.4%.
The January data was revised upwards to a 1.4% increase in monthly inflation and a 16.7% annual increase, compared to a previous NSI estimate of a 1.1% increase from the previous month and 16.4% from a year earlier.
Year-to-date inflation (February 2023 vs. December 2022) is 2.1%, while average annual inflation for March 2022 - February 2023 vs. March 2021 - February 2022 is 16.4%.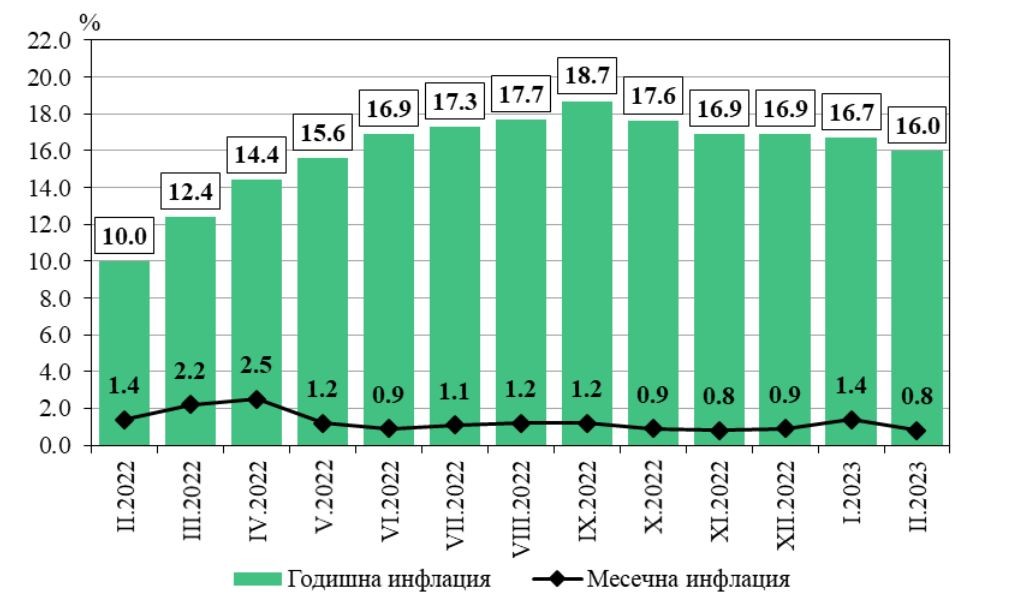 (Green) Annual Inflation; (Black) Monthly Inflation
In February, compared to the previous month, the largest increase in the prices of food products and non-alcoholic beverages (by 2.4%), in communications (by 1.9%), restaurants and hotels (by 1.1%), entertainment and culture (by 1.1%) and in healthcare (by 1%).
At the same time, the biggest decrease in prices on a monthly basis was registered in the group "housing, water, electricity, gas and other fuels" (decrease by 1.2%), in clothing and shoes (also by 1.2%) and in transport (by 0.4%).
The slowdown in annual inflation in February was the result of weaker price increases in transport (by 7.8% compared to February 2022 and after growing by 10.1% in January), furniture, household equipment and maintenance (by 12.7 % compared to 14.4% a month earlier), food and soft drinks (23.8% after a 25% increase in January), housing and utilities (up 18% after a 19% increase a month earlier) and restaurants and hotels (with 18.5% compared to 19.5% in January).
In contrast, spending increased in February mainly for recreation and culture - an increase of 15.6% year-on-year after a 13.3% increase in January.
In terms of foodstuffs, the most significant increase in the price of vegetables in February compared to January, with cucumbers increasing in price by as much as 32.7%, pepper - by 17.7%, ripe onions - by 13.2%, leafy vegetables - by 11.9% and tomatoes - with 9.3%.
Sunflower oil prices fell by 2.9%, lentils - by 1.7%, while bread became cheaper by 1% and flour - by 0.2%.
In the case of non-food goods and services, there was an increase in the prices of mobile telephone services (by 3.7%), propane-butane gas (by 1.5%), financial services of banks (by 0.9%).
A sharp decrease in prices was registered for central gas supply (by 25.7%), methane (by 14.6%), A100H gasoline (by 0.5%) and A95H gasoline (by 0.3%) .
In February 2023, the prices of medicinal products increased by 1.2% compared to the previous month, and the prices of medical and dental services increased by 0.5% and 0.4%, respectively.
Harmonized inflation (the HICP index according to common European standards) rose by 0.7% on a monthly basis in February, while harmonized consumer inflation on an annual basis slowed to 13.7% from 14.3% in January.
The Harmonized Index of Consumer Prices is a comparable measure of inflation across EU countries. It is one of the criteria for price stability and for Bulgaria's accession to the Eurozone.
The price index for the small basket increased in February by 1.2% compared to January, when it increased by 1.5%, and since the beginning of the year it has increased by 2.7 percent.
In February, prices of goods and services from the small basket for the lowest 20% of households changed from the previous month as follows: a 2.4% increase in food products, a 0.2% increase, while non-food prices remain at the level of January.
Follow Novinite.com on Twitter and Facebook
Write to us at editors@novinite.com
Информирайте се на Български - Novinite.bg
/NSI
We need your support so Novinite.com can keep delivering news and information about Bulgaria! Thank you!
Back