Protests all over the Country against the Involvement of Bulgaria in the War in Ukraine
Politics

|

March 12, 2023, Sunday // 18:34

|

views
@Facebook group "Свободна и мирна България"
A rally-procession under the title "Bulgaria - Zone of Peace" and "No to war and the involvement of Bulgaria in the conflict in Ukraine" gathered dozens of protesting citizens in front of the National Palace of Culture (NDK) in Sofia.
They declared for peace and demanded that our country maintain neutrality, as well as that a referendum be held that would clearly state the position of the citizens on the war in Ukraine.
"No Bulgarian boys in the slaughterhouse!", "Eastern Front again!!! - they will pass without us..." read the posters of the protesters. There were many Bulgarian flags, as well as the Samara flag. Russian flags were also visible, reported the National Radio.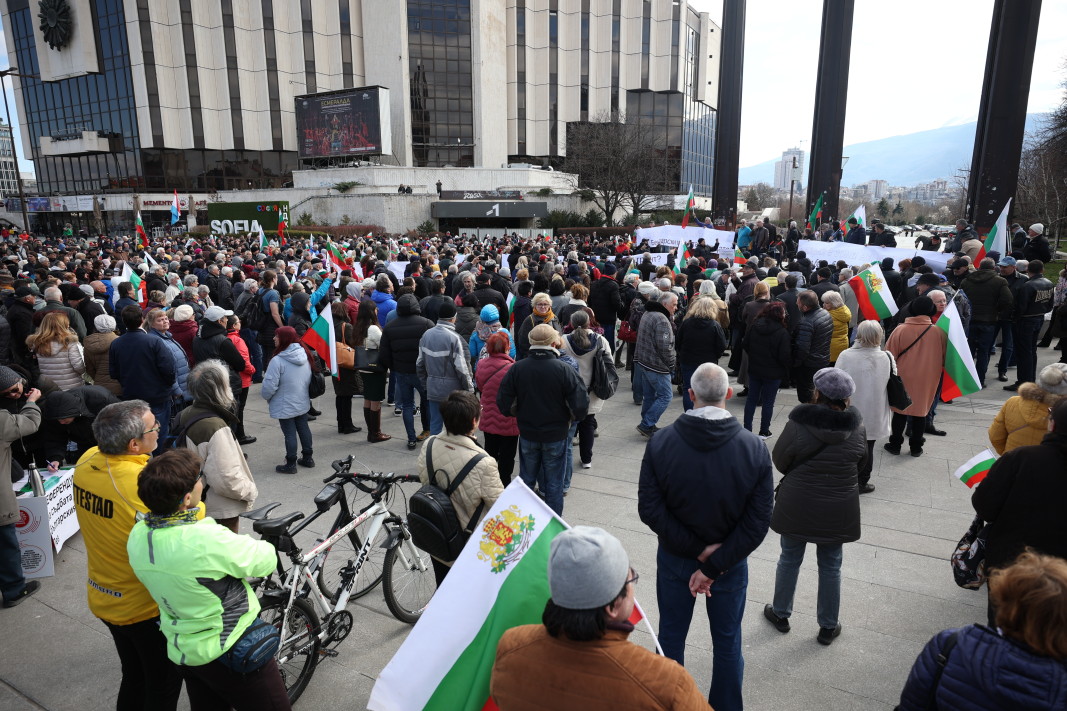 Ivan Radichev said he was at the protest because he wanted neutrality. "Bulgaria has enough resources - natural, fossil - to be an independent and free country in the Balkans", noted the protester, quoted by BGNES.
Miglena Yoncheva stated that she is at the protest because she is Bulgarian and a mother. "Because I still believe that there are enough people in Bulgaria who can unite and wish for peace, not war. I want a future for my children, who I don't want to run away, as the people of my generation ran away," she pointed out.
After the rally, the participants in the protest blocked part of the center of Sofia and "Tsar Osvoboditel" boulevard between the presidency and the parliament. From the presidency, the procession headed to the building of the National Assembly, and then to "Orlov" bridge.
The initiative is joint with seven other cities in our country, and the idea is to declare the people's will for peace, the organizers explained on social networks.
Rally-procession under the title "Bulgaria - a zone of peace!" and "No to war" also took place in our maritime capital Varna. Representatives of non-governmental organizations, political parties and citizens gathered near the Municipality with posters: "Peace and neutrality". "We are for peace and neutrality of Bulgaria regarding the war in Ukraine," said one of the organizers of the rally - Georgi Velikov: "Bulgaria should be a zone of peace, as we have doubts that our rulers, for what reason is not clear to me, are most likely serving someone's interests, trying to bring the country into war. I do not approve of any war and do not consider , that by sending weapons, sending troops, the war will be resolved. This can be done through diplomacy, through negotiations, through talks. I think that this way."
Follow Novinite.com on Twitter and Facebook
Write to us at editors@novinite.com
Информирайте се на Български - Novinite.bg
/BNR
We need your support so Novinite.com can keep delivering news and information about Bulgaria! Thank you!
Back