Tragedy: More than 30 People Died in a Train Accident in Greece
Southeast Europe

|

March 1, 2023, Wednesday // 09:20

|

views
@BNT
The death toll from the severe train crash in Greece is increasing. The authorities officially report 36 dead, the injured are more than 100. There is information about 2 injured Bulgarians.
The first two carriages of the passenger train were completely burnt by the collision between the two trains. According to the testimony of the passengers, they were full of people. Most of them were students returning to Thessaloniki. The passengers from the last carriages of the train are in good condition.
Doctors are fighting for the lives of the wounded, who are over a hundred people. Some are in very serious condition, medics say. Most of the victims are young people, probably students, reported the hospital in the city of Larissa. The wounded are placed in the hospitals from Larisa to Thessaloniki, volunteers donate blood in them.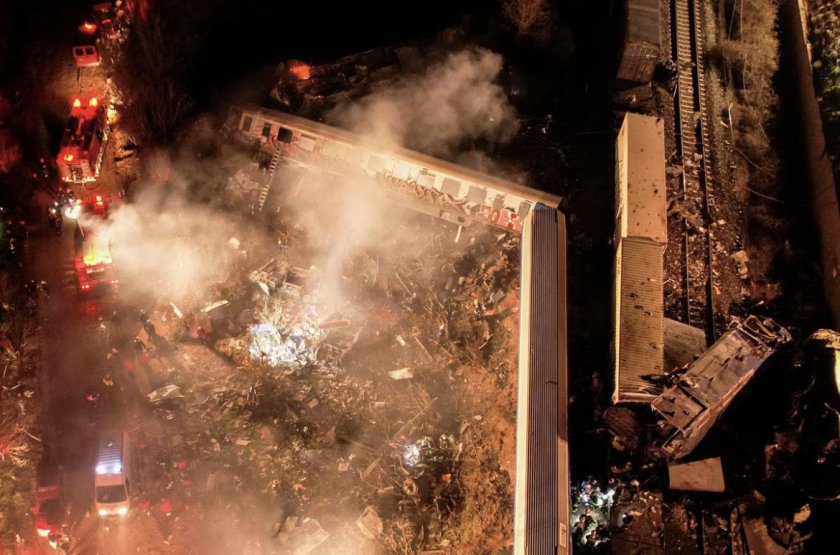 The rescue operation of the firefighters continues, who hope to find alive passengers under the first three carriages that suffered the most in the accident.
The Directorate of Fire Protection reports:
"The action of the firemen to rescue the passengers from the train after the serious accident continues. 150 firemen and 40 ambulance teams are involved. There are also 15 police patrol cars on the scene."
Witnesses who survived told authorities that many of the train's doors did not open and some passengers were trapped inside the carriages.
Authorities have expressed concern that the death toll will rise.
It is assumed that the cause of the accident was wrong information from traffic control from Larissa station.
Trains from Thessaloniki to Athens have been suspended.
"The dead are mainly from the first two carriages of the train, which were literally destroyed. The dead are mostly young people and students. A procedure is underway to identify the dead. There is no information so far as to what nationality they are. We do not know if there are Bulgarian citizens among them." Boyka Atanasova, a journalist from the website "Bulgarian News" in Greece, explained to the Bulgarian National Radio.
The accident is believed to be due to mismanagement of train traffic as the impact was head-on, she confirmed.
Follow Novinite.com on Twitter and Facebook
Write to us at editors@novinite.com
Информирайте се на Български - Novinite.bg
/BNR
We need your support so Novinite.com can keep delivering news and information about Bulgaria! Thank you!
Back