Survey: 51% of Bulgarians want a united Europe against any Aggression and War
Politics

|

February 24, 2023, Friday // 16:46

|

views
@BNT
51% believe that Europe should act united against any aggression and war, and 9% of the Bulgarian population believes that European countries should give way to the right of force and fulfill Russia's demands. 31% are of the opinion that Europe should continue to provide military aid to Ukraine, so that the war does not spread to other countries.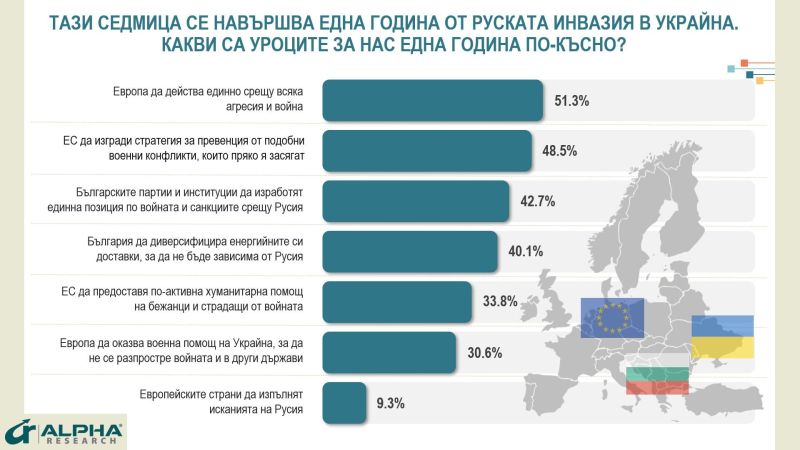 This is shown by the results of an express national survey by "Alpha Research", conducted in the period 18-22 February among 900 adult citizens from all over the country. Sociologists have studied what we Bulgarians think are the most important lessons we should learn from the war in Ukraine.
"The year during which Europe and the world experienced the shock of Russia's attack on Ukraine, we witnessed unprecedented changes - in international relations, in solidarity between countries, in the empathy of ordinary citizens, in the rethinking of the concepts of security and guarantees of peace" comment from the agency and present the results.
51% believe that Europe should act united against any aggression and war. According to 48%, it is necessary for the European Union to build a strategy for the prevention of such military conflicts.
About 40 percent of the respondents put a focus on the Bulgarian position. 43% state that it is imperative that the Bulgarian parties and institutions work out a unified position towards the war and sanctions against Russia. For 40 percent, Bulgaria must diversify its energy supplies in order not to be dependent on Russia.
The active humanitarian aid that governments and ordinary citizens have already provided to those fleeing war leaves this issue somewhat behind the scenes, among the lessons already learned. It is explicitly mentioned by 34% of the respondents.
Follow Novinite.com on Twitter and Facebook
Write to us at editors@novinite.com
Информирайте се на Български - Novinite.bg
/OFFNews, Alpha Research
We need your support so Novinite.com can keep delivering news and information about Bulgaria! Thank you!
Back