More Accidents due to the Strong Wind in Bulgaria: A Tree Fell on 3 Girls in Plovdiv
Incidents

|

January 19, 2023, Thursday // 17:35

|

views
@BNT
A tree fell on three girls aged 13-14 while sitting on a bench in front of a block of flats in Plovdiv.
The teenage girls were admitted to the Emergency Department of the "St. George" Hospital in Plovdiv, "24 chasa" reported.
The girls have minor injuries. The Regional Directorate "Fire Safety and Protection of the Population" has not received any reports of incidents caused by the strong wind that came out in the early afternoon.
The strong wind continues to rage and cause accidents. On entering Vratsa, a passenger train with two carriages from Vidin hit a fallen tree, BNR reported.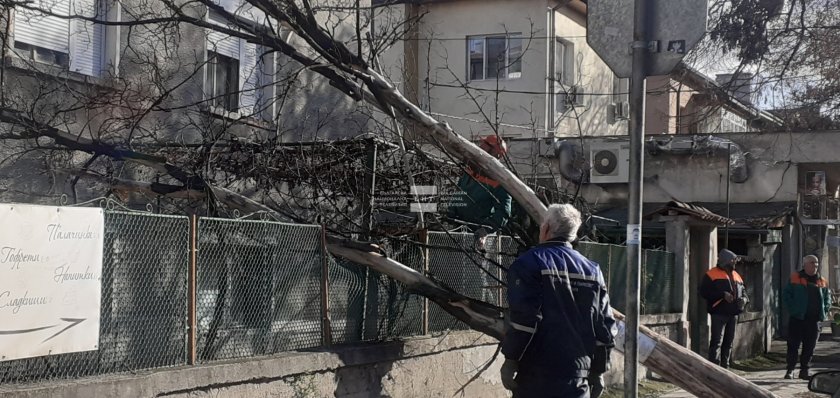 The accident happened at 9 o'clock. After the impact, the tree that fell on the tracks swept away a catenary pole and knocked it down. The contact network is interrupted. Train services were suspended for hours.
A female passenger was slightly injured in the impact, on whom the glass fell from a window in one of the carriages. The other passengers were not injured. They were transported by Bulgarian Railways (BDZ) to the railway station in Vratsa to continue their journey to Mezdra and Sofia.
A state of emergency was declared in Vratsa today. Wind gusts reach 140 km/h.
Yesterday, stones lifted by the whirlwind broke a window of a city bus in Vratsa, and two female passengers and the driver were slightly injured in the incident.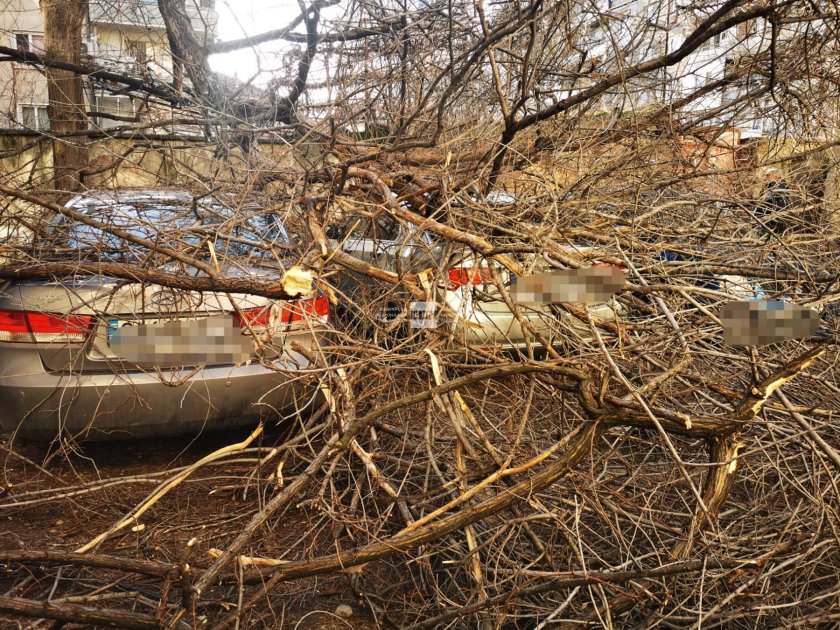 Emergency teams of the Metropolitan Municipality have processed more than 170 signals related to the strong wind today. The data are from the reports received until 3:30 p.m., the municipality announced.
More than half of the calls are for fallen branches and trees, and the rest for leaning construction fences, sheet metal, billboards, traffic lights. The most signals are from the Sofia districts "Mladost", "Vitosha", "Lyulin", "Iskar", "Poduyane", "Nadezhda".
About 60 of the signals were responded to by the teams for branches and trees on the territory of parks and gardens. As of this hour, more than 210 signals have been received from the 112 emergency system.
Earlier today, the stormy wind blew away part of the roof of the Council of Ministers, while the presentation of the report on the work done by the caretaker government of Galab Donev was going on in the building.
NIMH announced a red code for very dangerous weather in Vratsa. It is also valid for Montana, Lovech, Gabrovo and Veliko Tarnovo. In the "red" municipalities and regions, the wind is hurricane-like, that is, with a speed of over 100 km/h (30 m/s and stronger). The south wind yesterday and today "broke" five temperature records in Bulgaria.
Photos: Bulgarian National Television (BNT)
Follow Novinite.com on Twitter and Facebook
Write to us at editors@novinite.com
Информирайте се на Български - Novinite.bg
/OFFNews
We need your support so Novinite.com can keep delivering news and information about Bulgaria! Thank you!
Back