Sofia Public Transport: Which are the New Tickets and Cards and How to Validate them?
Society

|

January 8, 2023, Sunday // 14:20

|

views
@sofiatraffic.bg
Prices of cards and the new changes, valid from January 1st 2023, can be also be read here.
1 The new time tickets - how to use and charge them
How do I buy a ticket?
If you want to get a time ticket for the first time, you must go to the counter of the Center for Urban Mobility (CGM/ЦГМ) and buy one of the two cards available - ultralight (paper card) for 80 Cents (BGN) or plastic card for 3 Leva (BGN). On the card, the cashier loads the ticket you want to use – either the one for 1.60 Leva for a journey with a transfer within 30 minutes or the one for 2.20 Leva for a journey with a transfer within 60 minutes. You can only select one type for each individual card. If you want both, you need two cards.
If you do not pay with a bank card or through the MPASS application, you must go to the CGM ticket office (which you often cannot find at a public transport stop) and buy a time for time loaded on a card.

Ultralight card (left) costs 0.80 BGN and is a Paper Card.
Personalized card (right) costs 3 BGN and is a Plastic Card.
They look the same but are made with different materials and have different uses (see more below)
Can't I charge my tickets online instead of at the CGM ticket office?
Only the personalized plastic card (see above) can be charged online, not the paper card (Ultralight). And in order to have the personalized plastic card, you must first have gone through a CGM office, where you have to provide the necessary data and they have to register you.
Can I get my new cards from subway ticket offices instead of the CGM ticket office?
Only ultralight paper card can be taken from there. Plastics cannot be issued from a subway ticket office, but can be loaded there.
Can I use the subway with the card on which I loaded a 30+ e-ticket (the one that costs 1.60 Leva)?
Yes, it allows transfer by subway and ground transport. Basically every public transport available.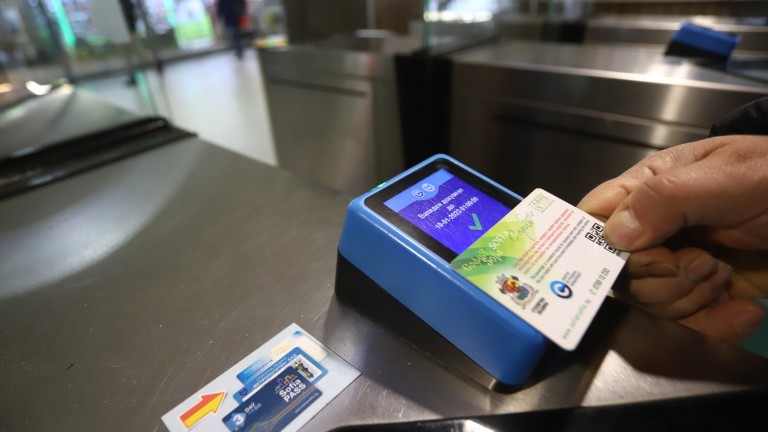 The time ticket (30+ or 60+ minutes) is also valid for transfers in the subway
How many tickets can I load on the ultralight paper card?
Up to 10, as the Center for Urban Mobility has determined that the card is not very durable - it can tear, for example, and therefore it is not recommended to use it for a long time.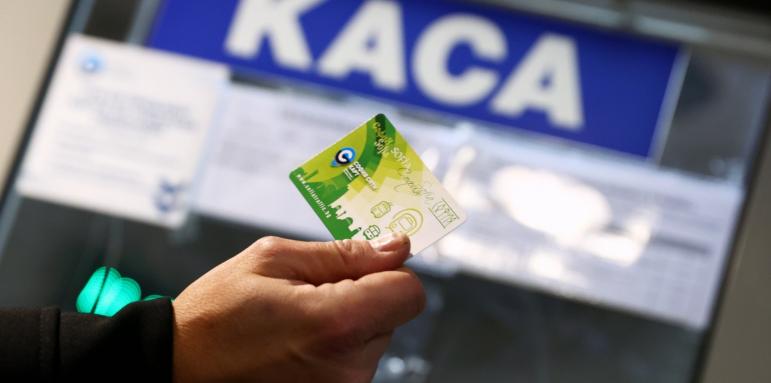 Does the ultralight paper card need to be personalized?
No. So you can give it to someone else to use if you choose.
How will I charge my ticket, as there are no CGM ticket offices or counters at the stops?
Certainly, the new tickets oblige you to get to a counter. In order to save yourself the hassle, you can load your card with ten tickets at once, for example. But again, the point is that if you use an ultralight paper card, you are dependent on the ticket offices of the CGM and the subway.
If you want to get a card for the new tickets, you have to go through a counter of Center for Urban Mobility (CGM). Another question is how well they work and whether there are enough of them in the city.
There are not many counters of the CGM (a total of 51 in all of Sofia) and in some neighborhoods there are none at all. The options besides the ticket offices are: to pay with a bank card (working like timed tickets) or to buy a timed ticket or a day/24-hour pass through the MPASS app.
2. The subway tickets
Can I buy a ticket in the subway that is also valid for ground transport?
Yes, you can load one on the ultralight or the plastic card from the subway ticket office. It is the same that you charge from other places - you can enter the subway and after 25 or 55 minutes (according to the ticket) for example and then transfer to ground transport.
Is there a subway only ticket?
Yes, it can be bought at the subway ticket office for a price of BGN 1.60.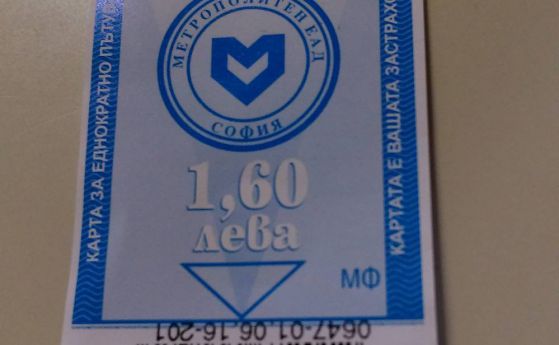 How do I know my ticket has expired if I don't have to validate it on every new transport vehicle?
With each validation, the validator shows until what time (for example until 12:01:20) you can transfer. Validation is mandatory. But to be safe, check your watch.
What happens to the e-ticket I have from the subway and which I load with a card?
The cards with coupons only for the subway, which were issued at BGN 1.20 each, will no longer be sold.
3. The cards - which ones were discontinued, which ones stayed?
Why were the cards for only one line suspended?
The argument of the municipal councilors from the summer (the proposal for the new tariff policy was accepted with the votes of GERB, VMRO, Boris Bonev, two votes from Democratic Bulgaria and two from BSP) was that the card for one line is too cheap (its price has not been changed for ten years), while public transport is on the verge of bankruptcy given the crises, and that it does not correspond to their policy of stimulating the purchase of annual cards. Municipal councilor Zafir Zarkov from GERB explained that if a person loads a card for just one line, in twelve months they will have paid almost as much money as the annual subscription card for the entire city network costs.
Many citizens wrote opinions against this proposal, but in the end councilors did not listen to their opinion. They did not take into account that this card is among the best sellers. Now there is also a petition to the ombudsman against the abolition of this type of card.
Why was the subway-only card suspended?
Almost the same reasons were given for cutting the subway card. But one of those that is not commented on much is that the municipal company "Metropolitan" had to stop being an issuer of transport documents. The only such one now is Center for Urban Mobility (CGM), as this is also recorded in the terms of the public order for the electronic ticket system for 100 million BGN.
Which cards are left?
An annual card that can also be paid in installments and to which CGM is trying to direct citizens. Monthly card for the entire transport network– remains and for the its normal price of 50 BGN, for students and for pensioners, cards for people with disabilities also remain. More information can be found here. There are also the one-day card, "Sofia" card (for tourists), "green ticket", "white ticket".
Which are the new cards?
A 24-hour card is being introduced at a price of BGN 6, as well as a 72-hour one at a price of BGN 15. Both include night transport, but there has been no such in Sofia for more than two years. There is also a "night card" (again, no point in having that). Another novelty is a card for a calendar week with aggregation - valid if you pay for your tickets with a bank card every day of the week. In this case (for five days in a row) you can travel for free with a card during the weekend.
A notable innovation is the so-called youth card - for people up to 26 years old, who can use the entire public transport network for BGN 25 per month, regardless of whether they are students. It can be as much as BGN 200 per year if paid at once.
Those who do not come to Sofia often, and the elderly, how do they buy or charge a ticket?
The official response of the CGM is "from the driver". But it is a fact that the ticket sold by the driver has become more expensive after the changes and now costs BGN 2, as it does not allow time transfers– i.e. you can use it only to travel in the vehicle from which you brought it. It is also the only "remaining" paper ticket (the ultralight card is also paper) - it is printed by the Bulgarian National Bank.
(the far left yellow ticket is the only available paper ticket and it can be bought only from the driver of the vehicle)
How do I validate my paper ticket from the driver?
The new paper tickets from the driver have a pre-printed QR code.
Validation is done with the QR code printed on it. Some validators do not read the QR code and the ticket cannot be validated. This is probably because it was not issued by the ticket system in question. But the lack of validation is a reason for a fine. The Center for Urban Mobility issued instructions on how to validate the ticket.
The paper ticket must be validated 3-4 cm from the device. Citizens have already complained that they are having difficulties with this because the device does not "catch" the code
Why are validations mandatory?
The municipality says that they are important for statistics - the system will be able to monitor how the flow of people travels and, on the basis of this, to propose line optimizations in accordance with this. Years ago, validations were mandatory again, but then that was dropped.
Upon validation, information is provided until what time you can transfer to another vehicle.
What are the changes for students?
There are changes for those who use a subway-only or single-line monthly pass. In this case, they will have to "switch" to monthly for the entire city network at a preferential price (from BGN 20 for the whole transport network, instead of the previous BGN 9 only for the subway, for example). There is also an option for a family package - for a monthly card for a parent and student for the entire city network for BGN 60.
4. Online, apps, other means
Can I have a virtual card from the Center for Urban Mobility on my phone?
At first, there was such an idea, but this did not happen either.
Can I buy a public transport ticket online?
You can through the MPASS app. Another way is through the website of CGM, but only plastic cards (the one for 3 Leva see above) can be loaded there.
Can I load both types of cards online on the CGM website?
No, just the custom plastic.
Are there apps where I can buy a ticket?
For now, there is only one app where you can buy a ticket - MPASS.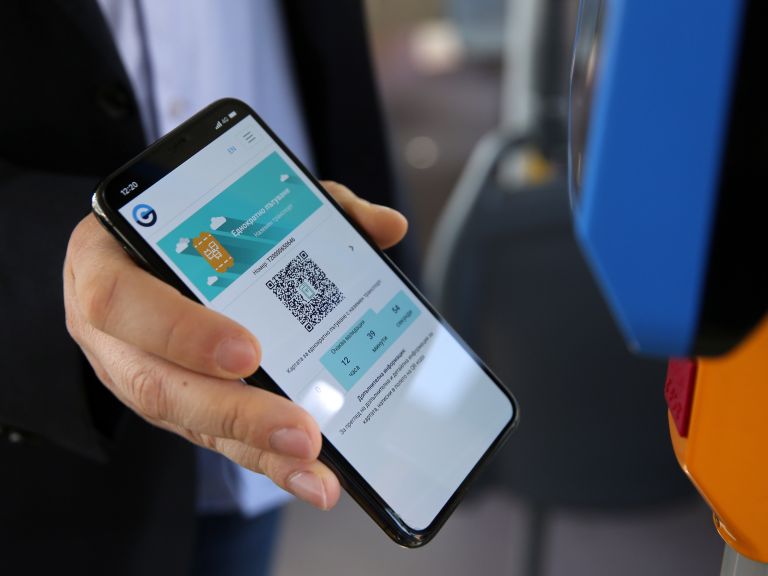 What can I buy from the MPASS app and how does it work?
The two types of time ticket (30+ and 60+), day pass, 24-hour pass. Please note that the 30-minute and 60-minute travel ticket purchased from the app are active from the moment of purchase, not upon validation on a vehicle. From the moment of purchase, you can transfer for 30 or 60 minutes, respectively, and then a new QR code with a validity of 90 minutes is generated so that you can complete your trip. That's why the MPASS app says a duration of 120 minutes. For example: if on the 29th minute you board and validate the tram, on the 30th minute you can no longer board with a 30+ ticket. But you may complete the entire journey in the vehicle you are in.
Will it be possible to buy cards (like the annual card) from the MPASS app?
Not for now. The municipal council has yet to consider whether to sell long-term documents through other channels and from other traders, as well as for what commissions.
Can I buy a ticket from an app of my mobile operator?
For now: no, although one of the promises, when the ticket system was launched, was exactly that: mobile operators, merchants, banks could sell tickets. Even two years ago, when the system was supposed to be operational, municipal councilors said that many merchants would start selling tickets so that they would be accessible to everyone and everyone could buy a ticket as they liked. This was heard during the adoption of the ordinance with the new tariff policy this summer as well. Then, to "Capital", the chairman of the municipal council, Georgi Georgiev, commented that he expects "in an urgent order after the adoption of the tariff policy, the alternative channels will work". He explained that these will be cash registers of large supermarkets, payment chains, etc., as well as digital channels to make loading cards more convenient. But that still doesn't happen, with no one publicly saying why. In fact, the contractor of the ticket system actually has an advantage to make available new channels for purchase - in its contract it is written that it will receive a 5.85% commission from each ticket sale made through a merchant.
#5 Bank cards
Can I travel with a transfer paying by bank card?
Yes, it works as a 30+ ticket if you validate on two vehicles for example within 30 minutes. The fee is BGN 1.60.
Is the bank card valid as a 60+ ticket?
From the information of CGM, it is only understood that it can be a 30+ ticket, as well as being transformed into a day card (for BGN 4) for more than 2 trips per day. This means that it cannot be used as a 60+ ticket.
Is it profitable for me to pay for tickets with a bank card?
It depends on how much you travel. There is a "bonus" for bank card users - if you travel every weekday with one, your trips on Saturdays and Sundays are free.
Follow Novinite.com on Twitter and Facebook
Write to us at editors@novinite.com
Информирайте се на Български - Novinite.bg
/Capital
We need your support so Novinite.com can keep delivering news and information about Bulgaria! Thank you!
Back